Stoy Family of New Jersey
The question we are still trying to answer is: Where did Philip come from and who, exactly, did he marry? Philip is possibly the immigrant and originator of the Stoy line in the United States - at least one of the Stoy lines. There is an extensive Stoy family descended from Rev. Heinrich Wilhelm Stoÿ of Pennsylvania (born 1726 in Herborn, Nassau Duchy, son of Johannes Steu, arrived in the US in 1752)1 and yet others descended from Stoy immigrants from England, Scotland, Austria-Poland and Germany beginning in the 1860s. There is no known relationship between Philip's descendants and those of Rev. Stoÿ of Pennsylvania but a DNA project would be a good approach that could resolve this question - this has not been attempted as of 2009.
A significant source of information on Philip's origins is an interview of Walter Stoy, great-grandson of Philip, in 1945 when Walter was 85 years old (Walter was born 10 years after Philip died). A transcription of the interview comes from the Haddonfield Historical Society files (see the sidebar).
Existing information adds some conflicting details to Walter's remembrances. Philip first showed up in the records of Waterford Township of Gloucester County in 1791 when the tax rates were set and the men of the township were recorded and assessed. Philip was a single man at the 1791 assessment and it was not until the 1796 assessment for Waterford Township that he appeared as a householder, a family man. Somewhere between 1795 and 1796, Philip married, four years after he first appeared in the county records.4 He was also in Waterford Township for the 1791, 1792, 1794, 1795 and 1796 tax assessments. He was in Newton Township for the 1793 tax assessment (Newton is now Haddon Township).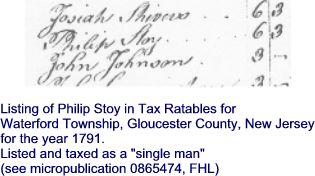 It's clear from this record that if Philip changed his name from Stoydja to Stoy as Walter recollects, then it was prior to 1791. There are significant conflicts between Walter's remembrances and the records. In the census of 1850, Philip and Catherine were both listed as being born in New Jersey5. Furthermore, the census records of 1880 show that, of Philip's children still alive, two state their father was born in New Jersey and one states Pennsylvania. If he were born elsewhere, especially other than the United States, they would have said so - they did not, suggesting that Philip was not the immigrant Walter made him to be.
Another record clarifies the question of Philip's wife - it's the will of John Rodgers6 in 1797 wherein Philip was an executor and Catherine Stoy, daughter of John Rodgers, was mentioned. There are three signatures by Philip in this will and they can be compared to his signature on his own will of 1852,7 and they are all the same signature (see the sidebar). The book This Is Haddonfield8, published in 1963, discussed some of the content of the interview and added the comment that Catherine Klutch was Philip's wife. This comment was unsourced and repeated in a manuscript by Larry Garris in 1994, housed at the Camden Historical Society9. Unfortunately, Klutch/Clutch has stuck as Philip's wife's surname even though there's no evidence. In fact, an analysis of extensive information on the Clutch family of New Jersey shows that Walter's grandmother, Margaret, was Margaret Clutch - see the research report on Margaret Clutch for the proof - Walter had confused his grandmother with his great-grandmother.
Walter may have confused his grandfather's ancestry with his mother's ancestry, which was Swedish through her Fish family - it's difficult to say. The mention of Lebanon County, Pennsylvania by Walter may be significant because that was the home of Rev Heinrich Wilhelm Stoÿ from 1767-1801. Wilhelm had no known son named Philip and extensive research on early Stoy immigrants to Pennsylvania has shown no connection except for one record, discussed below.

A recent find adds significantly to Philip's background and throws more cold water on Walter's remembrances. On 21 March 1835, Philip gave an affidavit regarding his memory of the Revolutionary War service of Isaac Armstrong of Gloucester County.11 In the affidavit and in the Armstrong pension record we learn that Philip was an apprentice to Joseph Champion of the Haddonfield and Coopers Creek neighborhood and that he lived with George Genge of the same area after the war. Unfortunately, no information is provided on what work Philip was doing and research so far on Joseph Champion and George Genge hasn't uncovered occupations of either. However, this clearly places Philip in the Haddonfield area by 1777, when he was about 10, and he remained in the area. His apprenticeship and later living with George Genge suggests, but doesn't prove, that Philip's parents were not with him.


James Stoy, Philip's oldest child, who pre-deceased him by ten years, was a substantial businessman in the Haddon Township area, operating a sawmill by 1820 in the Crystal Lake area and then purchasing 150 acres of land adjacent to Crystal Lake, where he made his home. This property went to his heirs after his early death in 1842.
Stoy Family Migration
Many of Philip's descendants remained in the Camden area into the 20th Century and many still reside in New Jersey, although his grandson Charles left the area in the 1860s and resided in Loudoun County, Virginia, by 1868 and moved to Fairfax County, Virginia, by 1870. Other parts of the family migrated to Philadelphia as well as Washington, DC. One family moved to the Pittsburgh area and still reside there.
Endnotes
1. Correspondence between Walter Josiah Yingst and Schuyler C. Brossman on the Yingst, Yeingst, Yiengst, Jeust, etc family - 1736 to 1900's - of Germany and Pennsylvania: Stoy, Steu family: Steger Family Notes; microfilm 924,629, item 7, Family History Library, Salt Lake City, Utah.

2. "Stoy Family Folder at Camden Historical Society", manuscripts of Stoy family related to James Stoy Elementary School and Stoy research by Larry Garris, Stoy Family Folder, Genealogy File Cabinet, Camden Historical Society, Camden, New Jersey.

3. G. W. Colton, World Atlas, (New York: J. H. Colton, 1856). An image of this map of New Jersey can be found at the excellent David Rumsey web site www.davidrumsey.com.

4. Philip Stoy entry, 1791-1796 Tax Ratables, Gloucester County, New Jersey, 1778-1822, Waterford Township; microfilm 865,474; Family History Library, Salt Lake City, Utah.

5. Philip Stoy household, 1850 U.S. census, Camden County, New Jersey, population schedule, Delaware township, page 145A, dwelling 389, family 403; National Archives micropublication M432, roll 445. Viewed on-line at www.ancestry.com, image 61 of 62.

6. John Rodgers will (8 Oct 1797), No. 2130H, microfilm box 567, New Jersey State Archives, Trenton.

7. Philip Stoy will (16 March 1852), Will Book A: 520, New Jersey State Archives, Trenton; also see Haddonfield Historical Society document 14-03-1683.

8. Historical Society of Haddonfield, This is Haddonfield (Haddonfield, New Jersey: The Historical Society of Haddonfield, 1963), 274-5.
9. "Stoy Family Folder at Camden Historical Society", Larry J Garris, 6 Jul 1994, manuscripts of Stoy family related to James Stoy Elementary School and Stoy Family, Stoy Family Folder, Genealogy File Cabinet; Camden Historical Society, Camden, New Jersey.
10. "Stoy's Landing", unknown author, manuscript - speech given at dedication of plaque at Stoy's Landing, 1931, John D F Morgan Collection No. 149, Camden Historical Society, Camden, New Jersey.

11. "Revolutionary War Pension and Bounty-Land Warrant Application Files," digital images, Footnote.com (http://www.footnote.com : accessed 20 Jul 2008); Isaac Armstrong; imaged from Revolutionary War Pension and Bounty-Land Warrant Application Files, M804 (Washington, D.C.: National Archives [n.d.]), no roll number cited.