Kälor/Calor/Caylor Family of Virginia
The name Jacob Caler appeared first in Loudoun County in the tithables list of Josias Clapham, apparently in 1770. He appeared again in most of the years up to and including 1783, the year of his death. His name was recorded initially as Calor or Caler and eventually his children used Caylor. The most interesting record is a lease transfer that he witnessed in September 1778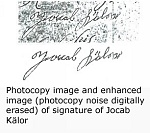 where he signed his name Jocab Kälor using script that is old German.1,2 It seems reasonable that Jocab was the immigrant, based on how he signed his name to the indenture. Granted that this is slim evidence but it seems unlikely that a first-generation child of an immigrant, raised and schooled in a new country, would sign his name with a strong German spelling and script when almost 40 years of age. However, we have no evidence of his life before 1770 in Loudoun County although much work has gone into research in both Maryland and Pennsylvania while attempting to trace other family surnames that the Kälor family associated with in Loudoun - the Lease, Bitzer and Lefevre families are examples.
The event timeline research documents for members of Jocab's family detail enough information to have a good picture of their early years just after the Revolutionary War (there has been no indication of service by Jocab in the war). Jocab was born before 1741, most likely in a Germanic county, and married Barbary, whose surname is unknown, about 1761. They had the following known sons:
| | | |
| --- | --- | --- |
| Andrew | b. Apr 1762 | d. late 1802 (after April) |
| Nicholas | b. 1764-5 | d. late 1792 |
| Jacob | b. Dec 1775 - Apr 1776 | d. Jun 1848 |
| Adam | b. Jul 1776 | d. 1840-1 |
Sons Jacob and Adam made their first appearance on the Loudoun County personal property tax list in 1795. This, along with the other information suggests they could have been twins. We can estimate Barbary's birth year from this information by considering that she was age 41 at the end of her child-bearing years, with her youngest son Adam (or Jacob and Adam) - that would place her birth after 1735. Further, say she was at least 21 at the birth of her oldest known child Andrew - that would place her birth before 1741. So, Barbary was likely born 1735-1741. She disappeared from Loudoun records by 1807, at about age 66-73. It's a reasonable conclusion to say she likely died about 1807. This is approximately coincident with the time (1805-6) that Adam disappeared from Loudoun records and then showed up in Ohio. The entire family left Loudoun by about 1806 with James Caylor, grandson of Jocab Kälor, returning to Loudoun by 1826 to continue this Caylor family in Northern Virginia.
Caylor Family Migration
The Caylors of Ohio who came from Loudoun County have expanded considerably since the early 1800s. Part of the family migrated to Indiana, especially Jay and Randolph counties, and many remained there. Some from Ohio moved to Nebraska, particulary Custer Couny. Others moved on to Appanoose County, Iowa, being joined by some from Ohio. From Iowa, families moved to Idaho, Oregon and California. A few of these families, particulary those in Idaho, changed the surname to Cayler in the late 1800s. In all of these movements, there are other Caylor families in many of these states at the same time but not descended from Jocab Kälor of Loudoun. In addtion, it's important to note that many Caylors in the United States are descended from the Caylor family of Washington County, Virginia - not related to those of Loudoun County as far as is known now.
Endnotes
1. Kip Sperry, Reading Early American Handwriting, (Baltimore, Maryland: Genealogical Publishing Company, 1998). Several good examples of colonial handwriting but the next source on German handwriting is more pertinent.

2. "Old German Script" personal site, Thomas Rueffer (http://www.tr62.de/script/default.html : accessed 20 Jul 2008).